The Top 10 Advantages of the Ford F-150 Pickup Truck
The F150 pickup truck is a true workhorse known for its power, performance, and versatility. Whether you need a reliable vehicle for your everyday commute or a tough truck for heavy-duty jobs, this Ford truck has got you covered. Let's explore the top 10 advantages of the Ford F-150 pickup truck, highlighting its power and … Continued
The F150 pickup truck is a true workhorse known for its power, performance, and versatility. Whether you need a reliable vehicle for your everyday commute or a tough truck for heavy-duty jobs, this Ford truck has got you covered. Let's explore the top 10 advantages of the Ford F-150 pickup truck, highlighting its power and performance, fuel efficiency, towing and hauling capabilities, safety features, comfort and convenience, and technology and connectivity features.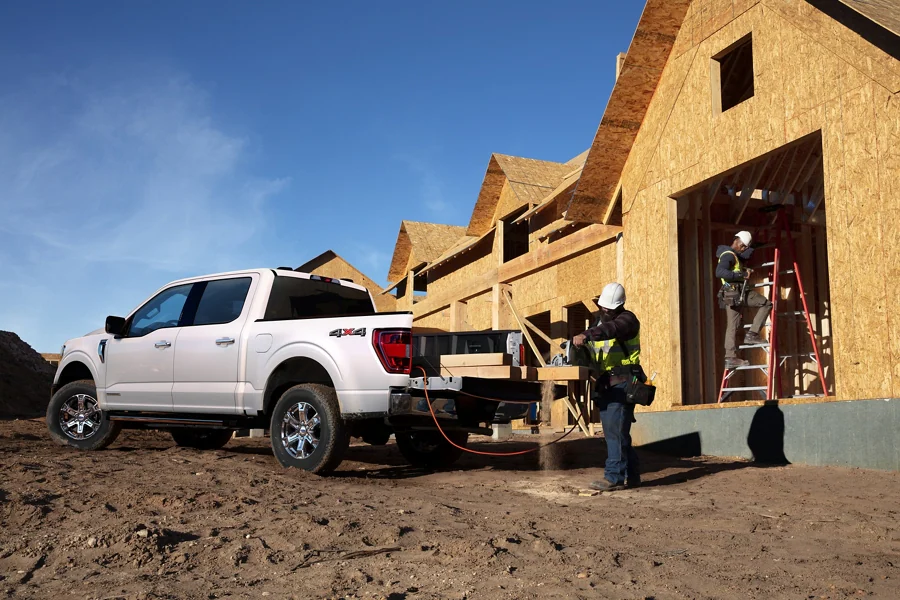 1. Power and Performance of the Ford F-150
When it comes to power and performance, the Ford F-150 pickup stands tall among its competitors. With an impressive range of engine options, including the powerful 5.0-liter V8 engine and the efficient 2.7-liter EcoBoost engine, the F150 offers a perfect blend of power and fuel efficiency. The available engines deliver exceptional horsepower and torque, allowing this truck to easily tackle even the most challenging terrains and heavy loads. Whether hauling equipment or towing a trailer, the Ford F-150's power and performance ensure you can get the job done efficiently and effectively.
2. Advanced Performance Features of Pickup Truck
In addition to its powerful engines, the F-150 pickup truck boasts advanced performance features such as the Pro Trailer Backup Assist and the Terrain Management System. The Pro Trailer Backup Assist makes maneuvering with a trailer a breeze, allowing you to easily control the direction of your trailer with a simple turn of a knob. The Terrain Management System, on the other hand, enables you to adjust the truck's performance settings to match different driving conditions, ensuring optimal performance and control. With these features, this pickup proves to be a reliable and capable companion for any adventure or task.
3. Fuel Efficiency of the Ford F-150
Despite its impressive power and performance, the Ford F-150 is surprisingly fuel-efficient. This Ford truck offers a range of engines that prioritize fuel efficiency without compromising power. For example, the 2.7-litre EcoBoost engine delivers excellent fuel economy, saving money on fuel costs without sacrificing performance. Additionally, the F150 pickup features auto start-stop technology, which shuts off the engine when the vehicle is at a stop, further enhancing fuel efficiency.
4. Generator Power of the F-150
Moreover, the F-150 pickup truck comes equipped with the available Pro Power Onboard system, which turns your truck into a portable generator, allowing you to power your tools and equipment on the go, eliminating the need for additional generators and saving you both time and money. With its fuel-efficient engines and innovative features, this pickup truck is an economical choice for those who value power and efficiency.
5. Towing and Hauling Capabilities of the Ford F-150
One of the standout advantages of the Ford F-150 is its exceptional towing and hauling capabilities. The Ford F-150 truck boasts impressive maximum towing and payload capacities, making it the perfect companion for all your towing and hauling needs. With the Max Trailer Tow Package, this truck can tow up to 14,000 pounds, allowing you to safely tow heavy trailers, boats, or RVs. This pickup also features a high-strength, military-grade aluminum alloy body and a fully boxed steel frame, providing the durability and strength required for heavy-duty tasks.
6. Towing Assistance Features
The F-150 offers a range of smart towing features to make your towing experience easier and safer. Features such as the available Pro Trailer Backup Assist, Trailer Sway Control, and the Integrated Trailer Brake Controller ensure complete control and confidence while towing. These features, combined with its impressive towing and hauling capabilities, make it the ultimate choice for those requiring a reliable truck for their towing and hauling needs.
7. Safety Features of the Pickup Truck
Safety is a top priority when choosing a vehicle, and the Ford F-150 does not disappoint. This Ford pickup truck has many advanced safety features designed to keep you and your passengers safe on the road. Features such as the available Pre-Collision Assist with Automatic Emergency Braking, Blind Spot Information System with Cross-Traffic Alert, and Lane-Keeping System help prevent accidents and provide peace of mind.
The F-150 also offers a suite of driver-assist technologies, including adaptive cruise control, which automatically adjusts your speed to maintain a safe distance from the vehicle ahead, and a 360-degree camera system, which provides a comprehensive view of your surroundings. These safety features work together to enhance your awareness and assist you in avoiding potential hazards. With its advanced safety features, this Ford pickup truck ensures you can drive confidently, knowing you and your loved ones are protected.
7. Comfortable Interior of the F-150
In addition to its impressive performance and safety features, the Ford F-150 offers a comfortable and convenient driving experience. The interior of this truck is impressive, with both comfort and functionality in mind. This pickup truck provides a luxurious and comfortable environment for drivers and passengers with available features such as leather-trimmed seats, heated and ventilated front seats, and a dual-zone automatic temperature control system.
8. Convenience of the Ford F-150
The F-150 also offers a range of convenient features to make your life easier. The available FordPass Connect allows you to remotely start your vehicle, lock and unlock the doors, and even locate your parked truck using your smartphone. It also features a spacious and versatile interior, with ample storage space and configurable seating options. Whether going on a road trip or running errands around town, this Ford truck ensures that you can do so in comfort and style.
9. Technology and Connectivity Features of the Ford F-150
Access to the latest technology and connectivity features is essential in today's connected world. The Ford F150 delivers on this front with its range of innovative technology features. The available SYNC 4 infotainment system provides a seamless and intuitive user experience, allowing you to easily access your favourite apps, make hands-free calls, and navigate to your destination with ease. The system also supports wireless Apple CarPlay and Android Auto, eliminating the need for cables and keeping your phone charged and connected.
10. Driver Assist Options of the F-150
The F-150 also offers a range of available driver-assist technologies, such as the available Active Park Assist 2.0, which takes the stress out of parallel and perpendicular parking by automatically steering the truck into the parking spot. The available Ford Co-Pilot360 technology suite includes features such as a rearview camera, automatic high beams, and a lane-keeping system, further enhancing your safety and convenience on the road.
Conclusion
The Ford F-150 pickup truck is a true workhorse, offering a wide range of advantages that make it the ultimate choice for those needing a reliable and capable vehicle. This truck excels in every aspect, from its powerful engines and impressive towing capabilities to its fuel efficiency, safety features, and technology innovations. Whether you're a contractor, an outdoor enthusiast, or simply someone who values performance and versatility, this Ford truck will surely exceed your expectations. Visit your trusted Ford dealer in Canada today and experience the top 10 advantages of the Ford F-150 for yourself and discover why it is the ultimate workhorse.
Blog News at:
Mustang EcoBoost Engine Explained: Power and Efficiency
Unlock The Secrets Of The Mach-E California Route 1
Everything You Need To Know About The Mustang Ecoboost
Why Didn't Humanity Invent Electric Cars Before Petroleum-Powered Vehicles?